Copper wire recycling machine in India
Copper wire recycling machine has a high popularity in India. As an environmental friendly equipment for recycling metal, copper wire recycling machine has been attracting more and more attention in different countries.
In recent years, waste has been restricted from importing in China, so those wastes such as waste cable wires remained in the developed countries will be moved to other countries especially in Southeast Asian countries such as India for recycling. Secondly, as we know the electron industry is hot in India now, there are many e-waste like cable wires there waiting to be processed, so there is no need to worry about the source of raw materials. Thirdly the copper has a good market in India. And the above is all the reason that's why the copper wire recycling machine is very popular in India now. And we also have exported many copper wire recycling machines in India.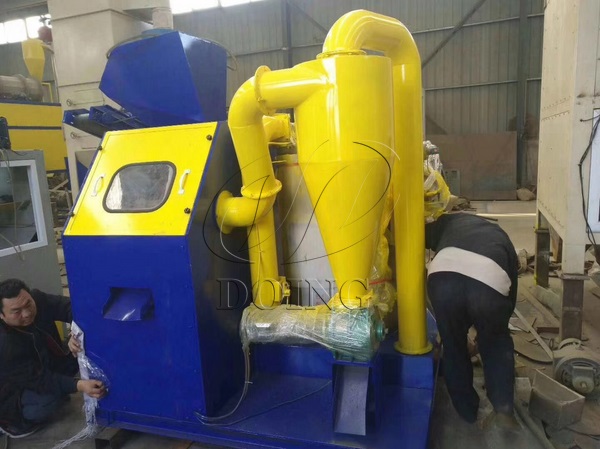 Copper wire recycling machine in India
Furthermore, the copper wire recycling machine is easy to install and simple to operate, and the investment is not high too. But the copper separated is very pure so the machine has a high product return. So the copper wire recycling machine is also a good beginning for the customers to start with a recycling business especially in the developed country like India, the individuals can easily start this recycling business.
Then how does the copper wire recycling machine work?
Actually when the power is on, the machine can work then. The main process is crushing and air separating. Then the copper and plastic will be separated effectively. Also, sometimes according to the specific size of the raw material or the capacity of the machine, it could add one more processing step-electrostatic separation, then the separating rate could be reaching to about 100%, so the copper separated will be very clean, and can be sold directly.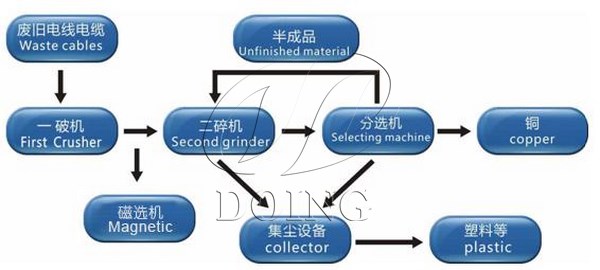 Copper wire recycling process
Because of the nature of environmental protection and the effect of the copper wire recycling machine, the machine is becoming more and more welcomed in India now.
And we also have installed other e-waste recycling machines in India like PCB recycling machine and aluminum plastic separation machine, ect. So if you have any interest in this business, don't hesitate to contact us! Look forward to working with you!