Copper Wire Recycling Machine For Sale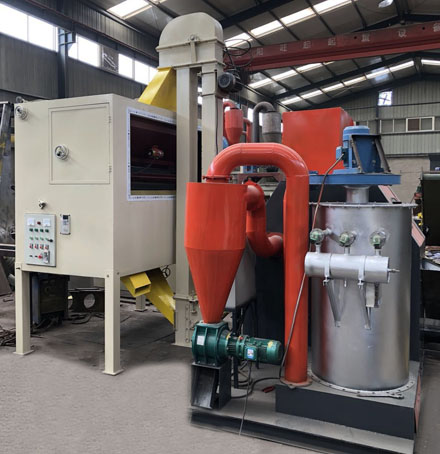 Copper cable wire recycling machine is a kind environmental protection type machinery, also called as copper wire granulator machine. Copper wire granulator machine is used for recycling scrap cable wires to separated copper and plastic through crushing, air separation or electrostatic separation process, without using fire, water or chemical, thus no secondary pollution to the environment.The separation rate of our copper wire recycling machine could reach to 99.9%, which you could see no copper in plastic and no plastic in copper.
Input Material - Copper Wire Recycling Machine
Copper wire recycling machine recycles scrap cable wires through crushing and separation process, so it has no limit for the input cable wire size or types. Any building wires and cables, industrial cables, low voltage cables, flexible cords, fixture wires or special purpose wire and cable, like battery lead wire, boat wire, bus drop cable, electric vehicle cable, festoon cable, distributed generation cable, etc, all could be recycled through copper wire recycling machine.
Industrial Cable

Automotive power cable

Gearbox wire

Multi core cable wire

Parallel wire pair cable

Power cable

Sensor cable

Power & Control Tray Cable
Running Video - Copper Wire Recycling Machine
Specification - Copper Wire Recycling Machine
Model
Dimension
Capacity
Power
Weight
Recovery Rate
DY-400
2000*1650*2600mm
100-150kg/h
18.5kw
1800kg
99.9%
DY-600
2500*1800*2850mm
200-300kg/h
45kw
3500kg
DY-800
3800*1900*3500mm
300-500kg/h
55kw
4200kg
DY-1000
4200*2100*3800mm
600-800kg/h
65kw
4800kg
DY-1200
5180*2300*4200mm
800-1000kg/h
80kw
5500kg
Advantages - Copper Wire Recycling Machine
Integrated type compact design

Fully automatic PLC control

Air suspension separation technology

High quality SKD-11 alloy blades

High efficiency pulse dust collector

High voltage electrostatic separation